Welcome to Oldfield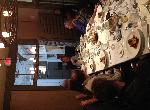 Riesling Lunch
Click on the picture to
view the entire album
Today's Events
Tomorrow's Events


Current Conditions:
Partly Cloudy, 51 F
Recently, a crew of eight Oldfield
residents installed new LED light fixtures on the dock. They added 18 on the south side and 23 on the north side of the dock. The project took about 3 hours. This is a major improvement as far as safety is concerned and is a prime example of
how Oldfield residents come together to make a difference! Marvin Bouknight also provided a great lunch. - See more at: http://oldfield1732.com/blog/#sthash.chjVIxsP.dpuf
__________
__________


March Newsletter
Click here to download




Congratulations Jay Barr!
Member of the Quarter for the fourth quarter of 2014.
Thank you for being such an important part of our community, we appreciate you!

SECOND SESSION:
Easter Egg Dying Party!


Friday, April 3 | 3 - 4 p.m.





Please note that we have reached capacity for our first Easter Egg Dying Party session from 2 - 3 p.m. BUT, Don't worry! We want everyone to join in on the fun so we have opened a second session!


Click here to RSVP today!

Oldfield Farmers' Market this Weekend!
Friday, March 27 | 3 - 5:30 p.m.
Outside of Greeter's Store

Enjoy fresh local produce and local shrimp as well as delicious goods from your favorite
local vendors.

Oldfield Easter Egg Hunt


Saturday, April 4 | 1 p.m.│All ages!
Members: $3 | Guests: $5

Click here for complete details, please RSVP no later than Wednesday, April 1.


Easter Brunch!
Sunday, April 5 | 11 a.m.-3 p.m. | River Club
Adults: $29.95 | Children: $14.95

Click here for the menu and to RSVP - Reservations are required!
__________

IMPORTANT DOCUMENTS
View your expert guide to Fishing Oldfield's Ponds by clicking here.

View the Oldfield Club Natural Resources Policy by clicking here.

View Minutes from the latest OCA Board Meeting by clicking here.

View OCA Budgets & Financials by clicking here.

____________________